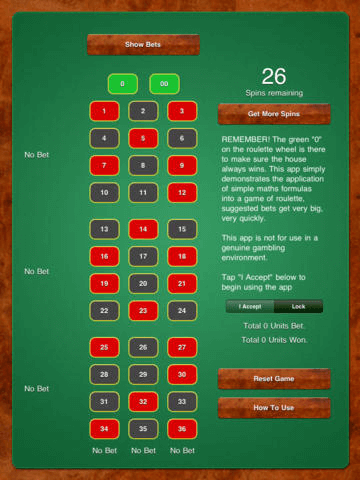 Roulette Predictor is an app that has increasing wins in a casino environment at the forefront of the mind. Matt Cowlin, the developer behind Roulette Predictor, focuses on creating applications that have a functional use for people.
App Features
Mathematics is an integral part of this app's technology. Roulette Predictor is meant to result in positive outcomes for roulette players by using numbers to the user's advantage. The app calculates how much would be a wise amount of money to bet in the user's current situation.
Algorithms in the app also let the user know what place would be the best area to bet on. The primary goal of Roulette Predictor is to show the user the mathematical equations involved in a typical game of roulette. The app assures a profit when it is used to predict roulette outcomes, even when there have been significant losses prior.
The developer makes a particular note to users that there is a reason behind the green number zero's placement on the app's roulette wheel. That zero represents that "the house" will always win. The app cannot ensure that the user wins every round of roulette, but it can guarantee that the user has the best odds of doing so.
There is an in-app summary of how Roulette Predictor works. Both text and images are provided to serve as an aid for a confused user. If a user requires more help than the app itself can offer, they have the option to contact Matt Cowlin directly for support.
Roulette Predictor costs $6.99, and it does not have any in-app advertisements. The lack of adverts comes along with the initial price of the application, so no additional payment is required to have an ad-free experience. Once Roulette Predictor is purchased, there are not any more upgrades to buy within the app.
Game Detail
Some iOS5 devices were having technical difficulties running Roulette Predictor. Any issues have now been fixed for iOS5 users in version 2.2.1. There is no limit on the number of times a user can spin the wheel now either.