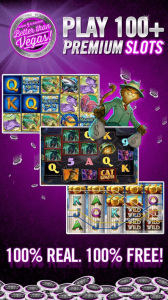 The High 5 Casino app is available from Google Play for free. After downloading the app, if you use your Facebook account you receive $25000 free. Otherwise you receive $5000.
When you enter the home page area, most of the slot machines will be locked. Don't be discouraged. You will have the opportunity to unlock the machines. The slot machines are ones that you will recognize from live casinos. Hoot Loot, Shadow of the Panther and Davinci Diamonds to name a few.
On the home page, there is a slot machine on the left. The first time you load the casino app there will be a few free spins on the machine. By playing this machine, you can earn money and unlock games. You receive free spins every 2 hours and when you play the games. On the home page, messages scroll across the bottom of the screen. The text is very small especially on a small phone. There is not an apparent way to increase the text size.
After selecting a slot game, the game page will load. To set the lines played and bet per line, the app has nice scroll wheels. This is a great feature compared to the usual plus minus buttons. At the bottom of the page are the number of crowns you have earned and how many levels you have reached. As you reach new levels, you will receive additional money and spins on the home page slot machine.
In the upper right corner, is the settings area dropdown. You can sign in, turn off sound and turn off vibration. Also there is a nice feature, 'Player Card'. This is where you can see how much you have won on each game that you have played. The help selection will actually load a webpage in your browser.
There are also tournaments available. All contestants play a designated number of spins for the competition. With each spin, you will see your ranking. Once you have completed a tournament, you can go to the 'View My Tournaments' area. This is where you can see how well you have done on all your tournaments. On the main tournament page there is one drawback. It is not apparent that to return to the home page, you select SLOTS instead of the home button. If you select near the home button, the settings dropdown will appear.
This casino slot app has nice crisp screens and real slot noises. The slots are fun to play, the pays are good and the bonuses are fun. With this app, players can have a realistic casino experience in the palm of their hand.