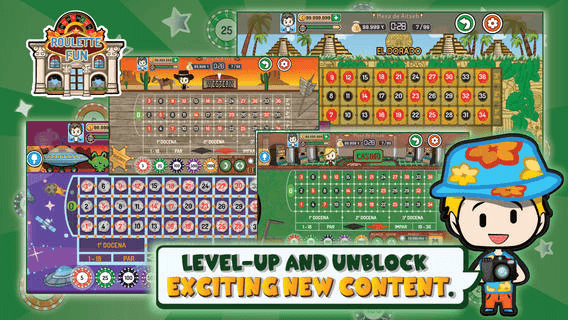 Roulette Fun- FREE Roulette is a redesigned take on this classic favorite Vegas Casino game. This game is hours of fun, and it is available to play on all devices. This Vegas style roulette game has much more surprises to unlock, and even more possibilities to find out! There are outstanding new levels to unlock, and amazing fun prizes.
Spending countless hours unlocking new levels, and winning prizes has never been so fun! Roulette Fun- FREE Roulette is an absolute fun way to play, and compete against friends and family from all around the world. This game is a truly innovated way that has been redesigned, and improved so that competing against friends and family anywhere has never been more fun! Toro Games S.L. is the developer of Roulette Fun- FREE Roulette. Toro Games S.L. has also developed multiple trivia games, bingo games, and dominos games.
Roulette Fun_ FREE Roulette is a unique take on a classic casino game. Roulette Fun can be played anywhere, anytime. This app is available for all devices, and can be played at any time and any place.
There are two modes that are available to play on. The first mode is the classic mode, and the second mode is the much more challenging challenge mode. Both modes allow the chance to win big by winning the jackpot.
This game features various time periods, and beautiful colorful screens. There is also the ability to chat with other people playing the game, and the ability to play against family and friends from all around the world. There are always new levels to unlock, stickers to collect, and new achievements to achieve! Roulette Fun- FREE Roulette is free to download on all devices, and does not cost a thing. This game also has no in- app purchases, and no in- app ads for interruption free! This unique take on the classic casino game is truly amazing, and amazingly fun to play and become addicted to. There are no shortage of levels to unlock, and new prizes to win. Start placing bets, and play this innovated new Roulette game.