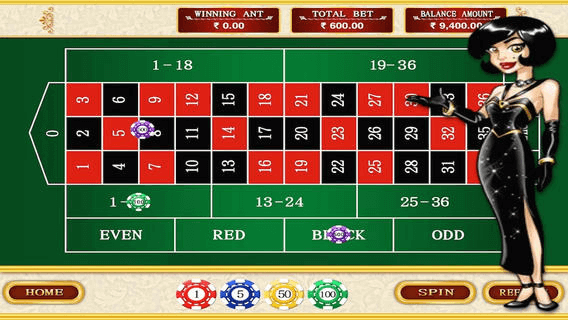 Roulette Fortune Win HD is a casino inspired game that features the popular Vegas casino game. Roulette is a European casino game originally, and Roulette Fortune Win HD is a perfect innovated replication of this much loved game.
Roulette is a game that can be played for hours without getting boring. This game promises hours of fun betting and winning. This new game is compatible with the iphone and ipad. Anyone can win Roulette Fortune Win HD despite having good luck or bad luck. This game truly brings the European and Las Vegas Roulette games straight to the iphone and ipad.
Anyone who plays this game loves it, and the thrill of playing at a casino in Las Vegas without traveling to the casino. The developer of Roulette Fortune Win HD is Senga Games, LLC. Senga Games, LLC develops other Vegas themed casino games; and popular adolescent games. Games such as Mummy's Tomb Runner, and Mountain Bike Race Maniac- View.
Roulette Fortune Win HD is a Vegas Style game that requires luck to win. Luck and chance are the two most contributing factors towards winning. Roulette Fortune Win HD is a game of prediction and betting. All that needs to be mastered in this game is how to predict where the ball will land after the wheel has stopped spinning. The prediction must be accurate to the exact spot.
Despite how impossible this may seem it can easily be mastered over a duration of time. By continuously spinning this game can be mastered within a short period of time. This game features outstanding HD graphics. Also, Roulette Fortune Win HD features an easy drag and drop so that placing the chips to bet is easier than ever.
In addition, this games comes complete with simulated casino audio. Roulette Fortune Win HD is literally available free to download on the iTunes Apple Store. There are amazingly no in- app ads. That means no in- app advertising to interrupt games. However, despite the betting features there are no in- app purchase that are available to be made.
So, why wait? Spin this Roulette Wheel to win and experience casino fun on the mobile device