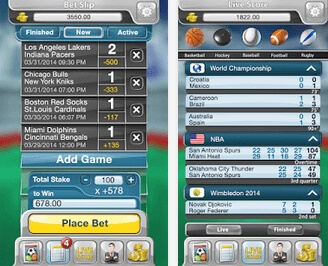 Experience the excitement of betting on real sports matches that fascinate you without having to lose real money in case your favorite team does not emerge as victor. Through Bookie Sport Game app, you can stake virtual wagers on actual and single sporting events, make betting decisions based on real odds, and view Live Scores to check the results, just as you would when betting for real money.
Bookie Sports Game app for Android devices runs on operating systems Versions 2.3.3, and is a free to download sports betting game that enables you to participate in the exciting world of sports betting. It provides a wide range of sports on which to practice your betting skills, be it soccer, football, rugby, basketball, tennis, baseball, volleyball, or handball.
Bookie Sports Games App Features
Bookie Sports Games (BSG) app users can play the betting games either as a guest, or by registering with one's Google + or Facebook account. At the onset, the app needs to know your language preference, your time zone, and the form of odds indices, whether in fractional, decimal, or American. The BSG app uses simple straight betting, to which the potential win is determined by multiplying the odds selected with the amount wagered.
The BSG app allows you to start betting instantly, as it immediately furnishes you virtual money worth 900 Bookie Coins. In order to replenish your betting money with fresh funds, BSG presents two ways by which you can obtain more Bookie Coins. The first set of options includes watching videos of adverts, logging in with your Google + account, inviting your friends, and sharing BSG at Facebook, following and/or tweeting about Bookie on Twitter, and by playing with at least one bet slip daily. The other option is to take on promotional offers, which are mostly about downloading other applications supported by Bookie, or special offers that require you to play a number of bet slips for one day.
The selection of sports matches is extensive. You can opt to view "All," which presents a complete list of ongoing and upcoming sporting events in Europe, in the U.S. and even in Asia. The BSG app also provides a rundown of different betting odds according to sports category. The odds presented depend on the sport category, but usually for three final results: the possibility that your supported team wins, or the opponent wins or that the match will result to a draw or tie between the competing teams.
Once you have made your betting choice, tapping on the odds selected instantly creates a prompt for you to tap on the Betting Slip icon. In doing so, the app immediately produces a betting slip indicating the game and the odd you selected, and the amount you could possibly win. All you need to do is to modify the amount, since the bet value is already set at a minimum of 100 Bookie Coins. If you wish to place another bet for another match, tapping on the Add Game brings you back to the list of betting selections. Tapping on the "X" allows you to change your mind and discard the bet slip before finally placing the bet.
After which, the Bookie Sports Games app will notify you about the results of your betting transactions through your Google + or your FB account.
Bookie Sports Games is a neat app for sports enthusiasts. However, for a game app that is rated 12+, providing additional betting guides would be most helpful, particularly for those who are new to the concept of betting based on probabilities.