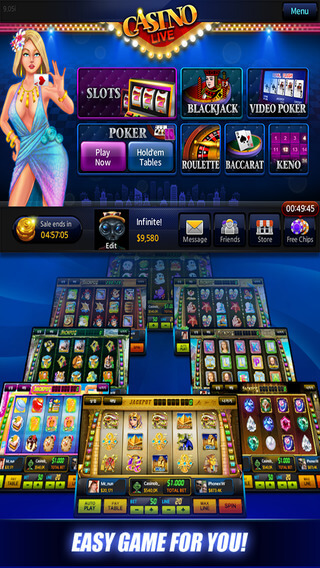 Introduction to Casino Live – Poker, Slots by NuriGames Inc.
Do you like to visit a casino? If you don't, you are in a minority and that is best shown by the number of people which visit casinos all over the world every day. People go to the casino to play, have fun, feel the excitement and if they are really lucky, they can earn some money. The fact is that most people lose their money in casinos and if you want to enjoy all the benefits of the casino and save your money at the same time, there is a solution. All you need to do is to download Casino Live on your smartphone or tablet with Android 2.3.3 or later and you can start playing. This game is free and it will give you some free coins to start playing with. There are also free chips every hour and daily bonuses, so you won't have to spend any money on this game. Of course, like most games of this kind it is not recommended for children under 12 because it has regular gambling activities.
Features of Casino Live – Poker, Slots
This game is a compilation of various casino games you can play in some of the most prestigious casinos. There are plenty of the slots to play and they are updated with the new models on a regular basis, so it will never  bore you. You can play a very realistic Texas Hold'em poker in many 5-players and 9-players rooms. If that is not enough poker for you, you can play a huge range of video poker with different modes, such as Jacks or Better, Deuces Wild or Jokers Wild. As very popular card games, Blackjack and Baccarat can also be played in this app. And finally, two games without which you can't imagine a real casino: roulette and keno. Roulette is an authentic American roulette and it is good to know that all the games are played by the same rules as in real casinos and have similar odds. This game also has an improved UI and Avatar system which will give you a chance to create a unique avatar to represent you. Once you download it, there are no limits on where and when you can play.
Casino Live – Poker, Slots Overall
If you are over 12 years old and you have an Android device with 2.3.3 version or newer, there is no reason not to download this game and enjoy the atmosphere of the real casinos. This game is completely free and there are plenty of free coins you can get so, unlike the real casino, you don't have to spend anything. Depending your preferences, you can play different casino games, such as poker, video poker, slots, blackjack, baccarat, roulette and keno. First class graphic and sounds will make you feel like playing in the real casino. The fact that odds in all games are similar to the real games will enhance it. Once you start playing, make sure that you have plenty free time because you won't even notice how fast time passes when you are having a good time. Play this game anytime and anywhere when you have some time. No matter is it a line in a bank, your couch or a break on your work, you can enjoy in the real casino games and atmosphere.