Introduction to Blackjack by Branium Studios
A blackjack is a very popular card game where a player or players try to win banker. Rules of the game are very simple. Every card has a certain point value and you get random cards. The sum of the points must be 21 or as close to 21 as possible, but it should not exceed it. This is a game of luck, but good players will remember which cards are out and count their chances based on that and cards they already have. This combination of luck, knowledge and skills makes blackjack one of the most popular games in casinos. Besides the classic table version with real cards, there is a modern version similar to the slot machine, where a computer is a banker and you try to win it. If you don't have time or will to go to the nearest casino and if you don't want to spend money, but you would still like to play blackjack, you can download it on your Android phone. If that is what you are planning to do, this game is a great choice. Once you download it, you can play it no matter of place or time.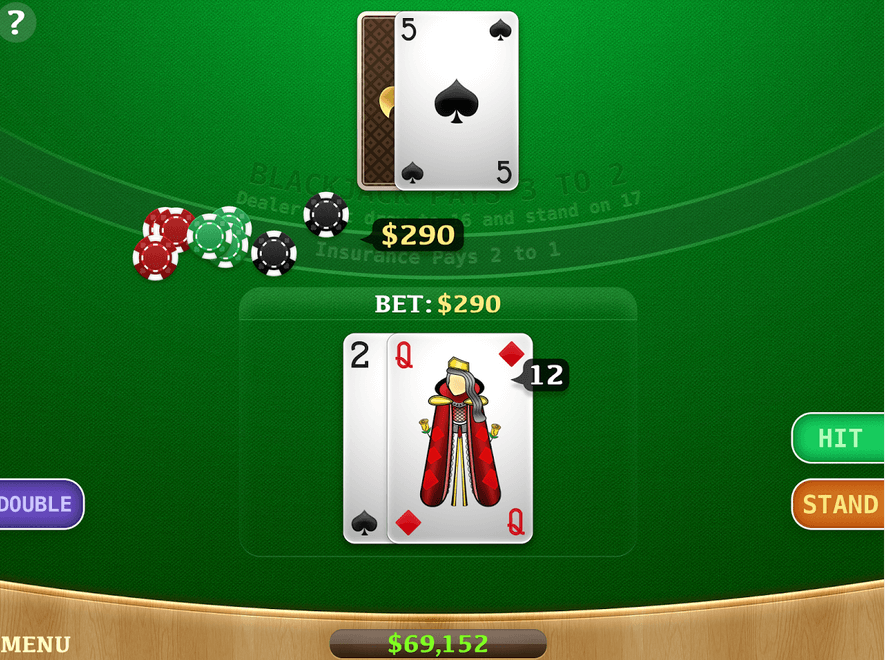 Features of Blackjack
This is a game for all Android devices and because of the beautiful and quality graphics it looks good on all screens, no matter how big they are and the sounds makes you feel like in a real casino. Of course, this is not a real casino and you can play it completely free. Once you download it, you will get free coins and you can get new free coins regularly. Of course, you won't earn any real money as well since there is no way to exchange your earnings from the game into the real money. However, if you want to play a real blackjack, you can use this game as practice. Beginners can ask for a hint and experienced players can use advanced strategies, such as doubling down or splitting multiple times. Deck transition animation will help you improve your card counting skills.  There is also a possibility to keep your scores and statistic for you to see how are you improving.
Blackjack Overall
If you have an Android phone and a wish to play Blackjack on it, there is no better choice than to download this game. The first class graphic and sound will create a realistic experience and good players will have a chance to improve their skills. This game is free to download and there are plenty of free coins you can get, so there is no need for you to spend even a cent on this game. Since you can download it on many devices, you can play it while you are resting on your couch, while you are driving in a bus, while you wait in a bank, during the break on your job or any other time and any other place you want to. You will be able to see your statistics and your progress. When we put it all together, no doubt this is an excellent real life simulation you can use to improve your blackjack skills or just to have some fun and spend time. Be careful when you decide to play because time will fly and you may spend more time than you planned while you are playing.