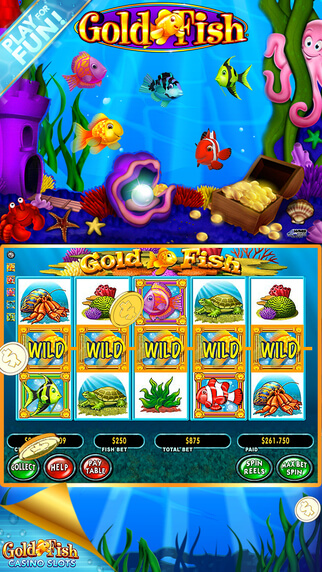 Introduction to Gold Fish Casino Slots by Williams Interactive
All slots lovers can tell you what is so good about the slots. It is a simple game of luck, where a slot machine has three or more reels with different pictures on it. When you push the button, reels start turning and when they stop, a combination of the pictures shown in a small window determines your possible winning or losing. It is simple but attractive and the possibility of winning will lure you to play more. This is one of the most popular games in casinos all over the world and since all the casino games have odds slightly on a casino side, you must be aware that most likely you are going to lose. If you still want to play it, but you don't want to spend money, there is a solution and that solution is called Gold Fish Casino Slots. For playing this game, all you need is an Android device and some internet connection to download it. Once it is downloaded, you can play it whenever you have some spare time.
Features of Gold Fish Casino Slots
Android 2.3.3 or later device is all you need for this game. Download it and can enjoy playing different slot machines, such as The Jade Monkey, Bier Haus, Great Eagle II, Gold Fish, and much more. These are all real Las Vegas slot games and the program used here is same as in real slot machines so, along with a great graphic and sounds, will make you feel like playing a real slots. The only difference is that you won't be in a casino while playing, but in your home, on a bus station, on your work during the break or any other place and time. Also, you will not spend any money for playing this game. It is free to download and there are plenty of free bonuses you can get every four hours while playing. You can connect to Facebook, send gifts to your friends, compare levels and achievements and much more. There are two important things you should know before you  download this game. First, this game is created only for amusement purposes. It means you can't earn any real money while playing this game. Second, this game is not recommended for children under 12 since it contains a regular gambling action.
Gold Fish Casino Slots Overall
If you are looking for a game that will entertain you in your free time, which is funny, appealing and interesting, Gold Fish Casino Slots might be a great choice. It is simple game and it will take only a few minutes to download it on your Android phone. Once you download it, you can play it without any limits. There is plenty of slots with the same features as the real slots from Las Vegas casinos, as well as same odds. So, if you want to see how is it to play in a Las Vegas casino, Gold Fish Casino Slots may give you a pretty good picture. It is completely free and all the daily bonuses you can get are making buying of the coins completely unnecessary. Just make sure your young children can't play this game and you got yourself a great fun for all free time you have.