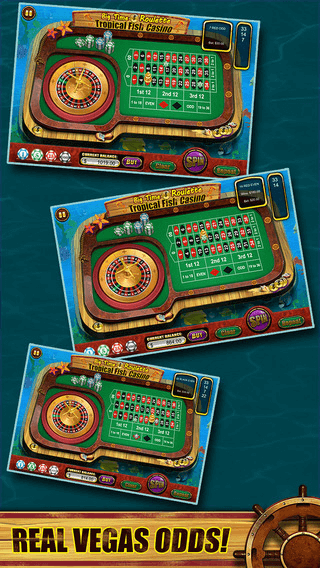 A Las Vegas-style roulette game that'll keep you spinning the wheel. Win big with this tropical theme roulette game for Apple devices. Developed by 20Twenty Studios, this game has a great, seasoned team behind it. The game is free to play for everyone and does not require in-app purchases to play.
App Features
Feel like a citizen of the sea with this tropical themed roulette game. It features a vibrant aquatic background and lovely tropical fishes. Those who love the calming blue sea will be right at home with this roulette game.
Like every roulette game, this app follows the standard rules for roulette. People can bet on a variety of options. Payouts depend on the bets made like any other roulette game. For example, black and white bets have a 1:1 payout and single number bets will have 35:1 payout. Players can bet on color, numbers or spreads. This game features real Las Vegas odds and payouts.
Each game begins with the player placing the bet. Afterwards, the ball dances around the roulette until it lands on a number. After the round, all bets are paid out to the player. There are 20 ways to bet in this game.
Everyone can play against other player's scores. Win big and be the big winner on the scoreboard for everyone to see. Develop a betting strategy to get to the top and show off to the world.
Roulette of Tropical Fish is free to play for everyone. This app has in-game purchases. Each purchase can buy tokens to play roulette, but, of course, the game is free to play without the need of any purchase.
This game is rated 12+ for simulated gambling. It does not contain any explicit material or language.
Game Details
The developers are always working to improve the game. Stability and functionality are the number one concern. To ensure customer satisfaction, the developers try to provide the best support possible.
It also requires iOS 6.0 or better, and it's compatible with iPhone, iPad, and iPod touch.
The most recent update features a variety of bug fixes and stability improvement.